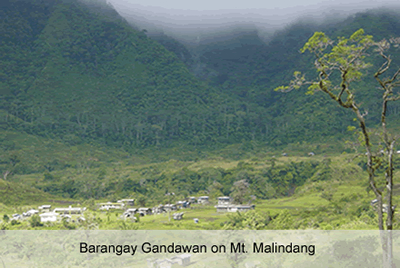 Background
The Biodiversity Research Programme (BRP) for Development in Mindanao was a five-year collaborative research programme jointly undertaken by Filipino and Dutch researchers in the area of Mt. Malindang and its environs, Misamis Occidental, in the island of Mindanao, southern Philippines. The programme was given financial support by the Netherlands Ministry for Development Cooperation (DGIS) through the SEAMEO Regional Center for Graduate Study and Research in Agriculture (SEARCA) based in Los Banos, Laguna, Philippines. The BRP was a product of a participatory and consultative process involving various stakeholders such as farmers, fisherfolk, local government units, and government agencies.
Mission
To undertake and promote collaborative, participatory, and interdisciplinary research that will promote sustainable use of biological resources, and effective decision-making on biodiversity conservation to improve livelihood and cultural opportunities.
Vision
Economically and culturally prosperous communities living harmoniously in a sustainable environment where biodiversity conservation is founded on an integrative and participatory research model.
Objectives
To make biodiversity research more responsive to real-life problems and development needs of the local communities by introducing a new mode of knowledge generation for biodiversity management and conservation.
To strengthen capacity for biodiversity research and decision-making by empowering the local research partners and other stakeholders.
Guiding Principles
Location-derived, need-based and development-oriented
Promotes multi-stakeholder participation
Systems-oriented and multidisciplinary
Uses a landscape approach